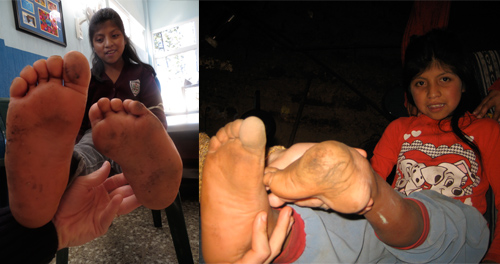 We first met Rosa nearly two years ago. She was a joyful, but shy eleven-year-old girl who hobbled along on a bent left foot.
Because of her twisted foot, her parents had never sent her to school and she only spoke a few words of Spanish since she'd never had the opportunity to learn any language other than her native mayan K'iche' tongue.
After two surgeries on her foot and a year of physical therapy at the Father's Heart Clinic at ASELSI, Rosa just graduated from the therapy program in November of 2013. She does not have 100% of the motion that her foot should have, but her foot works and looks so much better.  Her father, Carlos, reported that she is much better than before her surgery.
Along with the physical flexibility and strength that she gained from the surgeries and therapy, Rosa is a much more confident little girl and she was able to attend school for the first time ever in 2013. This month she started first grade and we're excited to see her grow, learn and use her "new" foot like other young children.
I (Michael) was on hand to witness her last therapy session with her physical trainer, Marta. As they walked through the exercise regimen, Rosa worked out with a confidence and mobility that I hadn't seen before.
Marta said that Rosa is doing things now that she couldn't before like standing on one foot, hopping. stepping over objects, etc. For the  past year, Marta, has been preparing Rosa for this day when she will have to work on her own to continue her exercises that help keep her muscles working together to keep her foot from turning inward again.
As Marta and Rosa said goodbye they both were in tears. One year of weekly training sessions have built a bond between these two.
We will continue to follow Rosa as she returns to school in 2014 and prepares for the purposes God has for her life.