Sidewalk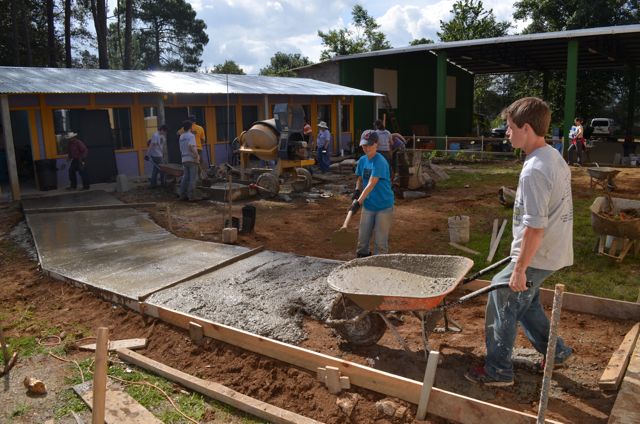 A team of 21 hard workers from Be The Change Volunteers joined ASELSI to help open the Jesus' Little Lambs School for special needs students on the outskirts of Chichicastenango, Guatemala.
I had the privilege of coordinating the team from the Guatemalan side of things and getting to see so many projects completed while the team was here.
The team:
hand dug about 100 yards of trenches and installed rain and waste water piping
installed rain gutters
Installed drainage boxes to prevent flooding
built a retaining wall
painted the interior of the school
made and installed curtains
built a fence
worked with the special needs students to plant an interactive flower garden in the school yard
poured concrete to prevent erosion around the school
poured cement for a wheelchair accessible walkway to connect the clinic and therapy building with the school
made three large tables to be used in the classrooms
While this team was unique in that the team members were not from a church and came from several different states, they worked together with willing hearts to get the school ready for classes.
By the time they left, they had moved the classroom from a small storage room into one of the large classrooms with fresh paint on the walls. The kids and teachers were delighted to hold their first lessons in the new school building just a few days after the team left!
Besides the work project on the school, the team also visited homes and delivered much needed food supplies, served 60 meals to men and shoe shine boys in the center of town, and taught English in a local Guatemalan middle school.
After all the experiences the team shared here in Chichicastenango, one of the team members who is not a Christian said that the experience made them re-think their beliefs…
"I was not religious/spiritual before the trip," they wrote. "I believe in a God but not necessarily a religion. After seeing how powerful prayer is to  some, I may rethink my  beliefs."
Our prayer is that this team member and others will not become "religious" but know real relationship with Christ and continue reaching out to help others!