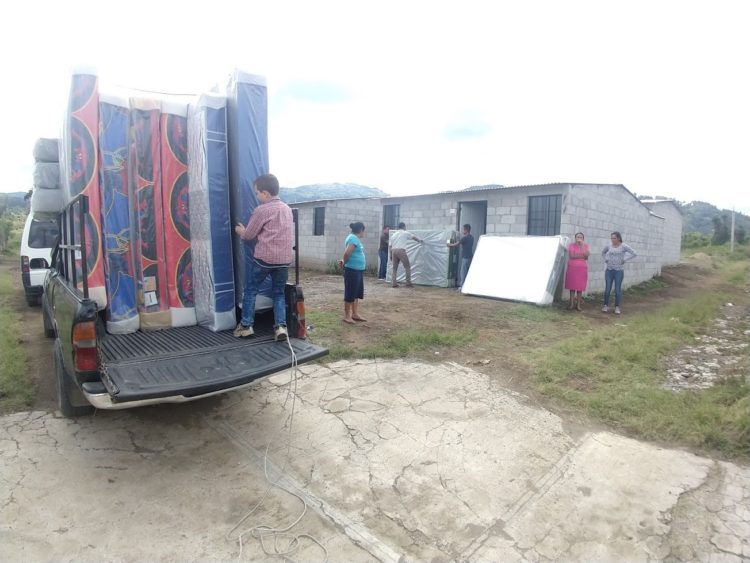 We drove 2 ½ hours down the CA-1 highway and wove our way through a forest road and finally arrived at a small group of four new cement block houses. These were the homes of four families displaced by the eruption of Volcan Fuego (the Fire Volcano) that destroyed their old homes.
The families we had come to visit were glad to see us and the pickup truck filled with beds behind us.
It's been nearly 4 ½ months since the disaster destroyed their homes, businesses, and all they had in their village of San Miguel Los Lotes that had been cozily nestled against the side of the volcanic slopes, but sat directly in the path of the deadly flows of rubble, gas, and ash that swamped over their town burying two story buildings up to the second story windows and killing over 200 of their neighbors.
We have been working with other ministries to help these families and others deal with their urgent needs and start the recovery process. Now that these houses had been built, it was time to furnish them.
Thanks to the generous support from friends and churches in the States, we were able to provide emergency food, transportation, supplies (diapers, water, etc.) along with three stoves and gas tanks, and eight new beds to help these and other families get back on their feet.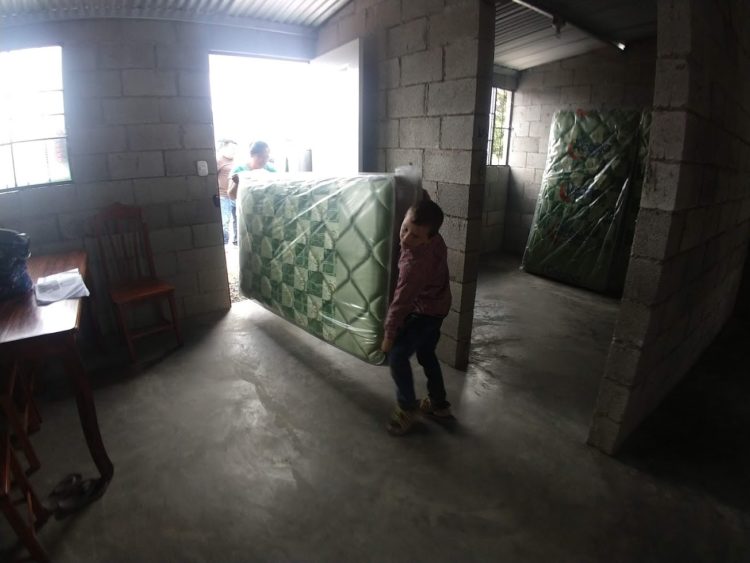 Hudson and I helped unload the beds and then he played with Yeferson one of the young survivors while I chatted with these families to hear their stories and pray for them.
Here are some of the stories they shared with me:
Osman & Lidia
On May 31, 2018 Osman stood before the congregation of his church and preached. He was glad to have the privilege to teach as a lay leader in a small church that was growing and needed to expand to have room for the new parishioners in the village of San Miguel Los Lotes located on the slopes of a mountain about 27 miles outside of Guatemala City.
Osman taught about the 10th plague in Egypt and how the children of Israel were brought out of Egypt, their firstborn sons saved from death by the blood of the sacrificial lambs on their doors.
They didn't know that in just a few days, destruction was coming to them.
On Sunday, June 3, the mountain was rumbling, but life was pretty normal, because the mountain was the Volcano called Fuego (Fire) and known for its occasional eruptions that hadn't ever caused much trouble for this little village…until now.
This time something was different. The rumblings got stronger and videos of that day show the dark cloud of ash towering over the village shortly before the hot gas and rubble blasted through the village killing 205 people in San Miguel Los Lotes alone.
Osman was just a dozen or so yards away when he saw a rolling wall of rubble – a deadly hot mass of gas, rocks and ash called pyroclastic flow. It was rolling through the village, burning, burying and killing at a rate hard to describe. Osman ran.
So did their son Ángel. He was running around playing soccer with his friends on that Sunday afternoon when suddenly he had to run for his life.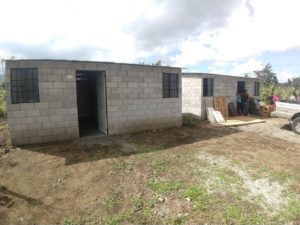 "We ran in every direction," they said.
Lidia is a woman who wears her sorrows on her face. Osman is her husband and as they both shared their story of escaping from the eruption, you could see the pain of loss on both of them.
They had lost their poultry business that day. Some 600 laying hens and about 800 meat chickens were consumed in the ash. They'd lost their home too, but more than anything the tears began to fall when they talked about the friends and family members who did not escape: The pastor of their growing church had been working at the church that day. He didn't make it out. Many of their brothers in Christ didn't come down the mountain either.
Osman and Lidia tried to go back and recover what they could, but all was buried they said — buildings, tools, vehicles. Gone. All buried beneath ash and rock that became like cement in the seasonal rains that soaked the region after the eruption. In some places you couldn't even see the houses anymore, Osman said some houses that had been two stories tall, now only stuck out of the ash by about three feet.
All they'd worked for over decades was gone. But there was hope too. For them and their five children who ran for their lives that day, they got out alive. At first they had to search for each other at the shelters that were quickly established to help those fleeing the eruption. But they did find their family and were reunited. Now they are trying to find work, and get re-established in their new community miles away from their old home.
I prayed with them and encouraged them that their brothers and sisters in Christ cared about them and sent these beds to remind them of God's love for them.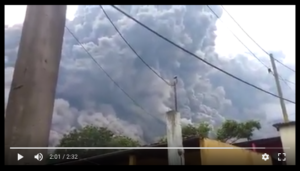 For Jessenia, a 35-year-old mom of two boys, she showed us a video on her cell phone of that day. As roosters crow in the background, the silent clouds of ash towered over the village and her son's voice rings out, "Mamá, it's coming this way! It's going to reach the sun! Come see! "
Jessenia tells of how she and her husband put their 8-year-old son on his back and six-year-old Yeferson climbed on her back and they ran, just escaping the deadly walls of ash and gas that engulfed their town. Now, my son and Yeferson were playing together in the safety of their new neighborhood.
Doña Gonzalez told about how she ran to the main road to escape and saw the wall of rubble and ash rolling through the street knocking over the utility poles as it pushed down the road.
One of the survivors told about another who was stuck in his house when the flows engulfed the village, he somehow escaped but not until he said the house became hot like an oven and the metal sheets on the roof glowed red hot.
As we heard these stories of loss and fear, I reminded them that in the middle of the destruction that Satan caused through that eruption, God had preserved their lives. Like Osman's sermon about the children of Israel and a night of terror for the Egyptians, God had preserved them and their families and He has a plan for them. We prayed for peace in their hearts, that those houses will be turned in to homes and that as they rest on the beds we delivered that they will remember God's protection over them and be refreshed in Him. They were grateful to those who have never met them yet, donated to help them get their lives back in order.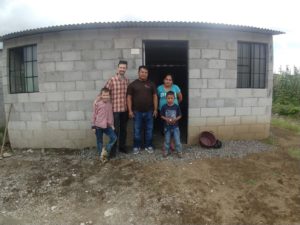 The village of San Miguel Los Lotes has been declared a disaster zone and is no longer livable since it is still in danger of further volcanic activity. Many of the missing were never found and have been declared dead by officials. The final counts by disaster officials in Guatemala is 332 people dead, but with nearly 3,000 listed as missing, that number seems questionable.
We have plans to visit Osman and his family in a few weeks to see how they're doing and to keep encouraging them and sharing Christ with this group of survivors.
Please pray for Osman and Lidia and for Jessenia and the rest as they settle into their new homes, look for work and their kids start in new schools. Like anyone going through a major catastrophe, they need encouragement and like all of us, they need to be reminded that God cares about them and that they're not alone.
If you would like to help us continue reaching out to families in Guatemala consider a making a donation here.