While hosting the first ASELSI team of 2012, we left the main road and went out to visit a family with a large tub filled with food for them. As we wound down hairpin curves, our little white Toyota van bumped over hardened ruts and finally descended to the smooth sand beside the Motagua River near the family home in the area of Xepocol.
After picking our way along the rocky bank, we walked by a ruined bridge that had been destroyed in the 2010 flood that ripped through this valley as a result of tropical storm Agatha. We stepped on rounded stones and crossed  a makeshift log bridge over the gently flowing water, it was hard to imagine the torrent that must have been this river just two years ago.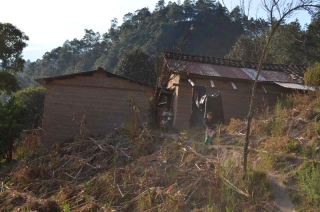 We followed the river up stream until we saw a small group of children high on a bluff above us looking down and jabbering excitedly as we worked our way up a ravine to the top of the bluff. These kids were some of the eight children we had come to visit.
We had been warned that this family had been suffering since the 37-year-old father had become ill due to some sort of problem with his head. Just a year and four months ago, he was active in his church and a strong Christian in his community. The father, named Miguel, could no longer work or walk and the family had exhausted their meager earnings and could no longer afford to visit more doctors. They needed about 2,000 quetzales (US$260) to visit a doctor in the capital, but that was beyond what they had. The eldest son, Tomas, is 18 and he struggles to keep the family fed by plying his father's trade of weaving cloths to be sold in town. At less than US$1 per hour for his work, there wasn't much hope of money being available for the family that needed about 300 quetzales (US$40) per week just to keep the family fed.
We walked through a dusty corn field that had been recently harvested as the children joined us. Soon we approached the adobe home where this dear family lived. The three adobe rooms had been built around a small dirt courtyard carved into the side of the hill and overlooking the river valley.
Once we said our formal "hellos," the family quickly ushered us into the bedroom where the father lay crumpled beneath a blanket. I knelt down to greet him and Pastor Sebastian, our guide, pulled back Miguel's knitted cap.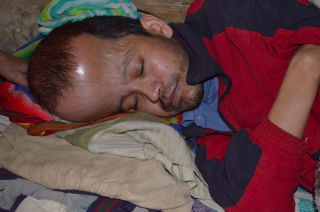 To say that Miguels enlarged frontal lobe was shocking would be an understatement. Yet, in the middle of all these people and in front of Miguel, I kept my composure and felt my heart go out to this man who obviously was suffering tremendously from a growth that had attacked his skull. His scalp now stretched to contain his enlarged head.
The team and I prayed for Miguel with a fervency that I have not felt for a while. We knew that this family is in desperate need for a miracle.
It's not often that I cry, but during that prayer, I felt warm tears dripping off my cheeks and the words that I prayed in my broken Spanish seemed to come more naturally than normal.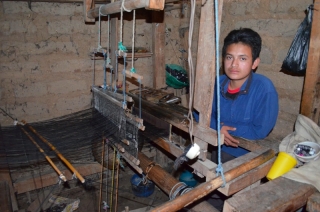 As we talked with the family, 18-year-old Tomas asked me if there is a cure for his father. "I'm not a doctor," I replied in faith, "But I know that God is the doctor of doctors and he has health for your father."
We left the family with the tub of food, a gift of money, lots of prayers and an invitation to bring their father and husband to the ASELSI Father's Heart Clinic the next morning where he could be seen by a doctor for free. Pastor Sebastian said he would bring his truck to help them get him into town.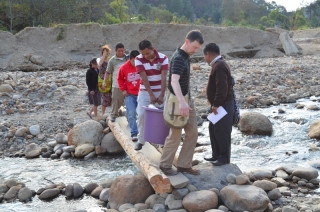 It was difficult leaving the family as we trudged back down the ravine and back across the river.
The next day I looked around at the ASELSI clinic in hopes of seeing Miguel, but he was nowhere in the crowds of patients. Late in the morning, one of the team members excitedly told me that Miguel had made it and the doctor said there looked to be a solution for him! Our team was filled with hope and I can only imagine the joy and relief the family members felt when they heard this news. After more than a  year, they were getting good news about their father and husband. The team even donated money in order to assure that he would be able to receive the further care he would need.
When I went into the clinic waiting area, Miguel was lying on a stretcher covered by a blanket. They were waiting for some x-rays that the family had of his head, but had forgotten to bring to the doctor. They returned to their house and came back with the x-rays in hopes of confirming the doctors analysis of his illness.
Then the x-rays arrived, and they confirmed not what the doctor had hoped, but the opposite. This was not just a mass that needed to be drained, but it was an osteomyoloma tumor that had already burrowed into Miguels skull and was affecting his brain. It was inoperable and the doctors said he only has about a year or less to live.
Several of the team members were nearly ill with the news as they did their best to comfort the family.
The family left and I didn't get a chance to pray with them again, but I am planning to go back next week to pray with them and see how we can help them further.
Late last night I thought about this family of eight children and especially about the question that young Tomás asked me. I thought about my answer and faith stirred in my heart.
I would rather step out in faith, hope and love than risk missing out on the miracles that come when we believe where hope seems small. I would rather walk in faith in the Christ who healed, delivered and rose again than to say that  discouraging news is the final word. What is faith except that it stands up in the face of a challenge?
I do not know how this story will end, but I know that my Christ is a healing Christ and He told me to go into all the nations, to heal the sick and that they will recover. I will not change my answer to young Tomas…I know that God is a healing God and that He has health for his father.
To be continued…
UPDATE: On February 18, we got a call letting us know that  Miguel stepped into eternity this morning. Praise the Lord that he and his family have the hope of seeing each other again because they have made Christ the Lord of their lives.