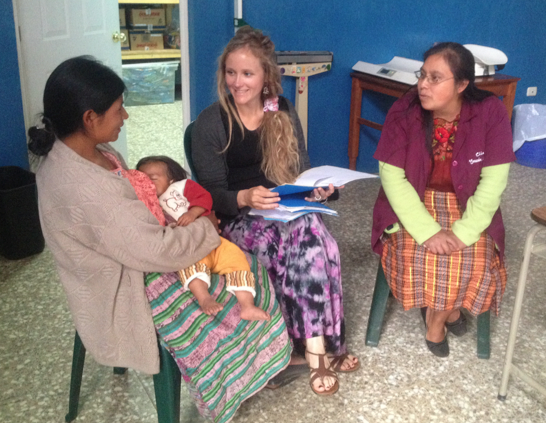 Angelina, is 1 year and 3 months old (shown here, held by her mom, at left). She only weighs 15 pounds — that's the normal weight for babies less than half her age–and she was showing signs of malnutrition — weakness and docility.
Chrisi recently met with Angelina and her mom, Josefina, at the ASELSI milk program to try and help this little baby gain some much needed weight. Chrisi learned that this mother is in a tough spot. She is 34 and has nine children, two of whom are already married. Her husband died 10 months ago leaving her to care for her little ones on her own. She had her first child at 15 and is now a widow just 19 years later.
Not having much education, Josefina has a lot of experience with kids, but having nine children doesn't necessarily mean that she knows what she's doing when a baby doesn't gain weight. That's why Chrisi met with her, to encourage her to give Angelina more than the 4 oz. of milk that she'd been feeding her daily.
For Chrisi it was hard to see this little girl–who is a month older than our own little Jubilee–being so weak and small, when she knows what a lively little one Angelina could be if she had enough to eat.
Angelina, is one more example of why we help serve with the milk program. Because food, education and the love of Christ are changing lives physically and spiritually here in Guatemala.
Please pray for Angelina and Josefina to have the resources, wisdom and strength they need to grow strong and healthy and to come to a greater understanding of God's love for widows and orphans just like them.