It's a Boy!
Haim Lawrence Shead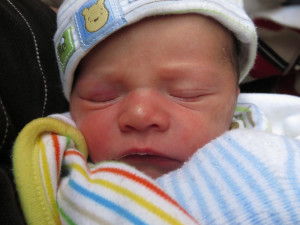 Born March 15 at 3:53 p.m. local time here at our home in Chichicastenango with the assistance of a local midwife
Stats: 6 lbs., 10 oz., almost 21 inches long.
Haim & Chrisi are both doing great and resting well.
We praise the Lord for a wonderful birth and this new little life He's entrusted us with.
Name: Haim Lawrence Shead
Meaning: From  חַיִּים (Hebrew) meaning "Life" or (Urdu) meaning "love" Haim (Rhymes with dime, pronounced "Hime")
Lawrence: pertaining to Laurel (a symbol of victory) and named after his paternal grandfather, whose character is a godly example to all of us.
We prayed this blessing over Haim.
"You will be a man who pursues God's heart.
As you follow Christ with everything you are,
The blessings of God shall come upon you and over take you.
You shall serve the LORD your God, and He will bless your bread and your water and take sickness away from you. (Ex. 23:25)
You will be blessed in the city and in the country.
You will be blessed in the fruit of your body, and the produce of your crops, and herds. Your ideas and investments will be blessed,
Your storage places and your food will be blessed,
You will be blessed when you come and when you go (Deut. 28)
The Lord bless you and establish you as His man, called to His holy purpose.
May the Lord give you a heart that pursues Him and for people to know Him.
May God give you favor and the ability to communicate and connect with people.
May your spirit and mind be bright with the light of God's word.
May you be the one who brings life and walks in victory in everything you do to gl0rify God,
You are one who leads others with integrity and righteousness like Daniel. (Dan. 1:8), you care for the poor and weak and help strengthen them
May any enemy who comes against you one way flee before you seven ways, and
May you always know that Almighty God is your Source of strength.
As you grow in stature, may you grow in wisdom and favor with God and man. (Luke 2:52)
May God bless what he puts in your hands like He blessed Joseph (Gen. 39:5) and may God make you like Ephraim and Manesseh (Gen. 48:20).
May God shine His face toward you and show you favor. (Num. 6:25)
May you be filled with the knowledge of Christ's will in all wisdom and spiritual understanding (Col. 1:9)
Follow the Lord with all your heart, my son.
Be a man of prayer and a pursuer of righteousness. Be quick to follow Holy Spirit's lead.
You are blessed to be a blessing."