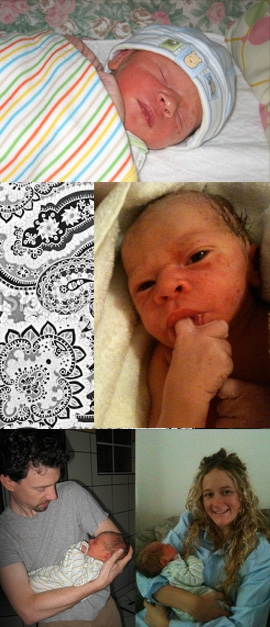 Last night we were blessed with the birth of our firstborn son, Hudson Michael Shead. He was born at 11:39 p.m., in a clinic in  Zona 13 of Guatemala City, Guatemala. He weighed in at 6 pounds 9 ounces and he's 19 inches long.
Chrisi and Hudson are both doing fantastic! After about 12 hours of timing regular contractions at home, Chrisi and I headed to our midwife's clinic where Hudson was born over 18 hours later. Chrisi had a total of 31 hours of labor. I was part of the delivery supporting her in the birthing room. After Hudson was born, I got to cut the umbilical cord and hold him. It was an amazing experience for us to share this time in the quiet environment of the birthing clinic. You can click to read the entire birth experience.
Here we are in just our fourth month as missionaries in this nation and God blessed us with the wonder of a new child. As Chrisi cuddled Hudson in her arms, I spoke this blessing over our son:
"You will be a man who pursues God's heart.
As you follow Christ with everything you are,
The blessings of God shall come upon you and over take you.
You shall serve the LORD your God, and He will bless your bread and your water and take sickness away from you. (Ex. 23:25)
You will be blessed in the city and in the country.
You will be blessed in the fruit of your body, and the produce of your crops, and herds. Your ideas and investments will be blessed,
Your storage places and your food will be blessed,
You will be blessed when you come and when you go (Deut. 28)

The Lord bless you and establish you as His man, called to His holy purpose.
May the Lord give you a heart that pursues Him and for people to know Him.
May God give you the ability to communicate and connect with people.
May your spirit and mind be bright with the light of God's word.
May you be the brave leader who walks with righteous purpose in your heart,
Who leads others with integrity and righteousness like Daniel. (Dan. 1:8)
May any enemy who comes against you one way flee before you seven ways, and
May you always know that Almighty God is your Source of strength.

As you grow in stature, may you grow in wisdom and favor with God and man. (Luke 2:52)
May God bless what he puts in your hands like He blessed Joseph (Gen. 39:5) and may God make you like Ephraim and Manesseh (Gen. 48:20).
May God shine His face toward you and show you favor. (Num. 6:25)
May you be filled with the knowledge of Christ's will in all wisdom and spiritual understanding (Col. 1:9)

Follow the Lord with all your heart, my son.
Be a man of prayer and a pursuer of righteousness. Be quick to follow Holy Spirit's lead.

You are blessed to be a blessing."
We named him after one of our heroes of the faith, J. Hudson Taylor. He was a great missionary who was key in bringing the Gospel to China in the late 19th century. You can read about J. Hudson Taylor here.
Click to hear the pronunciation of "Hudson". The name comes from German roots meaning "Bright of mind and spirit" and English roots meaning "Brave leader."
He is also named after his father, Michael. This name comes from Hebrew recognizing the wonder of our almighty God. Michael means "Who is like God?"
Thank you to all who prayed for us during this long labor. It was worth it!