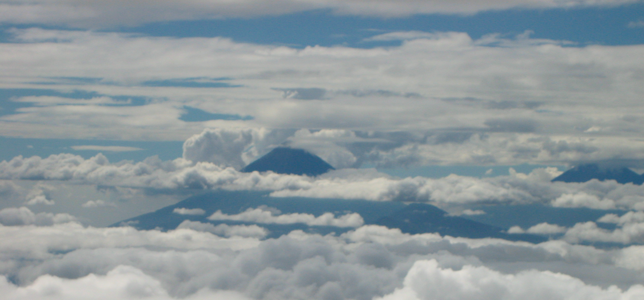 Our 737 jet swept over mountain slopes and ducked into the clouds over Guatemala City as we caught glimpses of volcanoes and green ridges through spots in the white clouds that raced eastward on the wind. Seven hours ago we left the snowy fields of Michigan and were now landing in the warm 66-degree sunshine of Central America.
An old military jet, a couple of DC-3s and a bunch of random planes sat beside the runway as our tires touched down in the land we've been praying and preparing for, for so long. We are finally here! After months and years of preparations, we arrived in Guatemala excited to start up life as missionaries. Now our Facebook page shows that we live in Guatemala. Nope, we're not just visiting this time…we can now answer the "Where do you live?" questions with an excited, "Guatemala!"
At the luggage carousel we counted as our seven bags (Yes, seven!) and carry-on that had to be checked came off the conveyor.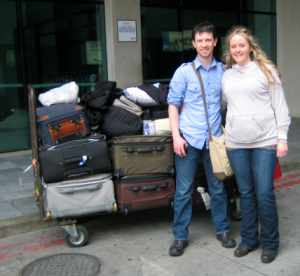 We were happy to see that everything arrived safely and intact. In the states we had sold furniture, clothes, and more. We gave away stuff, stored things and realized that we can do without a lot of the things we thought we needed. We didn't ship anything and we pushed the limit on our 50-pound bags as we filled our luggage with what we expect to live with for at least the next two years or longer. We packed things like clothes, a water filter, baby supplies, books, Bibles, computer equipment, a scanner, tools, and more.
Now we're here and one of the biggest adventures of our lives is underway!
Thank you Lord for bringing us this far. Lead on, Lord Jesus, we are excited to follow!
—————————————————————————————————————————–
If you want to keep up with us, follow us on Facebook and enter you e-mail in the "Feed" box on the upper right hand of this page. You can also support our ministry!
—————————————————————————————————————————–