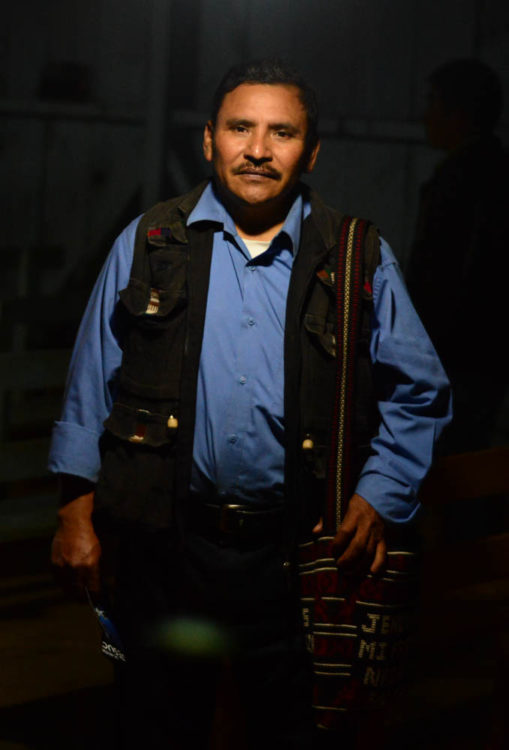 Francisco Chamai is a tough guy who hasn't forgotten the past.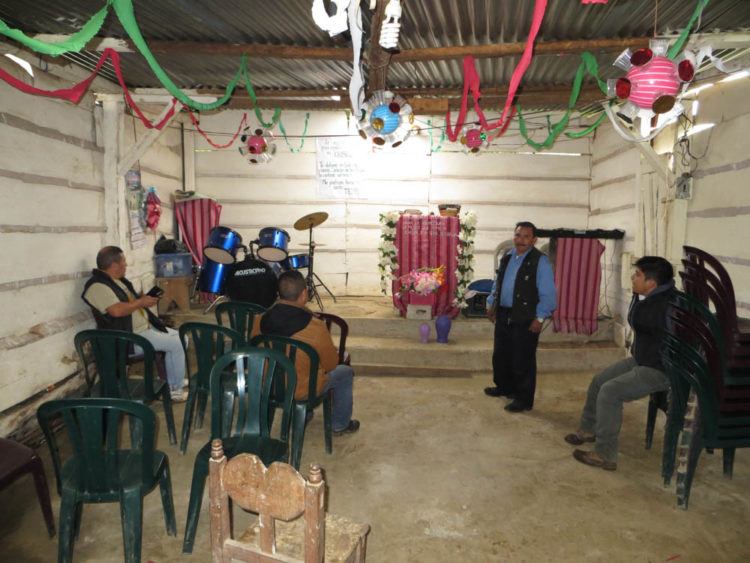 He lives in San Juan Cotzal, a town located about seven hours from the capital city of Guatemala. Here, he leads a church that ministers to children and a group of widows. They meet in a rotting wooden structure painted white inside and out that sits on rented land.
Besides his activites at the church in town, he spends about half of each month traveling out to little villages to help encourage, plant, and visit churches. To reach some of these places requires an 8 hour hike out into the mountains.
A sort of modern-day apostle Paul, Hermano Chamai, or simply Chamai, as he is called, walks these mountains visiting some 60 or more village churches to take Christ beyond the beaten trail. Where there isn't a church he helps start one.
His own house is a ramshackle wood building patched together on the side of a muddy trail. It's hardened mud floors are uneven and gaping board walls that keep his sparse furnishings out of the rain are testimonies of how this man takes to heart the verse in Luke 3:11 ("Anyone who has two shirts should share with the one who has none, and anyone who has food should do the same." (NIV). On most of his journey's out into the mountains he carries gifts that have been shared with him — food, clothes, school supplies for kids and whatever else he can find to bless the isolated villagers.
Chamai's trips take him over hours of rough trails where he can't stop unless he's willing to spend the night outside on the side of the trail. He tells of how he use to have a mule to help him on those trips, but the usually steady beast, lost it's footing and fell to it's death in a ravine. Thankfully Chamai was unharmed. His hiking of mile after mile of these trails bring out a lingering pain and some swelling in his legs, but these only serve to remind him of the past he left and the thankfulness he has that he can walk those trails.
This is the story of what inspires Chamai to make these trips that cause his sore leg to swell and his heart to melt.
During the ruthless civil war years, the 1980s were some of the worst for those who lived in the mountains of the Ixil Triangle where Chamai now walks. It was in those years that Chamai was a young soldier in the Guatemalan military. He learned leadership and order, and he knew how to handle a gun.
When he left the military he took with him an air of authority and soon found work as a body guard in the capital. He seemed successful. He had good work, a girlfriend, money in his pocket, a bicycle to ride, and a gun on his hip. He also had a habit of drinking alcohol that would play a key role in shattering his life.
In those days there weren't many cars on the streets and Chamai's main competition for the roadways of Guatemala City were the city buses that belched clouds of exhaust on him as they passed him on his bike.
One day, Chamai was a bit tipsy from drinking when he was racing his bike beside one of those buses. It made a turn he didn't expect and the impact of the bus knocked him off his bike and into the ditch. He blacked out.
Chamai woke up in the hospital in a world very different from the one he'd left on the side of the road. His gun, money, identification card, and bike were gone and his once strong body was now wrecked. Doctors were telling him he was going to lose his leg. With this news, Chamai's girlfriend made it clear that she wouldn't be sticking around to care for an invalid. She walked out of his life as he lay there waiting for surgery.
Unsure of what would happen next, Chamai lay in the hospital ward with some 70 patients waiting and waiting.
The door to the surgical ward opened and in walked a group of ladies from a local church. They had come to visit and pray for the sick. They had heard about a man who was about to lose his leg so they asked, "Where's the man who is about to lose a limb?" Chamai looked around and slowly raised his hand. These ladies gathered around him and prayed over him declaring healing in the name of Jesus.
As time passed, the doctors kept saying they were going to cut his leg, but they kept delaying for some reason. As they waited, a miracle happened and Chamai began to heal. Before long, they decided to screw the bone fragments together and let him heal. And heal he did.
People from the church kept visiting, praying and encouraging him, and Chamai gave his life to Christ. He spent nearly a year in the hospital recovering from his injuries and he left with a cane to help him walk. Eventually, he left even the cane behind and walks without even a limp.
Once out of the hospital, he started going to church and began to put his leadership skills into practice helping reach out to others who didn't know Christ.
Chamai was asked to coordinate a mission trip for a group of about 45 women. He did so with the precision of a military commander organizing each vehicle, hotel and food detail and keeping exacting records of each cent he spent.
When they returned from the mission trip, some of the leaders called him in for a meeting. They had questions about this new believer and how he, as a young man was leading a group of women. They called together the women's group and Chamai and began their questioning. Where did you stay? Where was the money spent? Were you ever alone with any of these women?
With the testimony of these godly women giving a good report of his handling of the trip and the receipts and financial records to back up his management of the funds, Chamai passed the test.
He continued serving in ministry and began to pray that God would give him a bride who would have a similar heart to serve the Lord.
Eventually, he met a young lady who had that same heart and they married. For years now they have continued serving the Lord. Eventually, they moved to the mountains of the Ixil Triangle to the town of San Juan Cotzal which became his center for launching outreaches and church planting mission trips into the mountains.
In these far off villages and hamlets, the name of Hermano Chamai is known across the denominational lines of churches because he is the faithful example of Christ that visits, listens, preaches and plants churches that are bringing people to Christ across the mountains of northern Guatemala.
—————-
When Chamai shared his story with me, I was intrigued by this man with a sun-tanned face. Of all the needs, he probably has, there were two main things that he asked for. 1) That I come back with him to visit some of the places he told me about, and 2) He's looking for help to get out to the villages. He doesn't ask for a 4×4 truck or even for a motorcycle. He wants two pack mules (yes, the animals) to be able to pack as many gifts of encouragement up those narrow trails to encourage the churches of the mountains.
——————
Your prayers and financial gifts help us continue reaching out to people like Chamai and encouraging ministry here in the highlands of Guatemala.
Give Here
Save
Save
Save