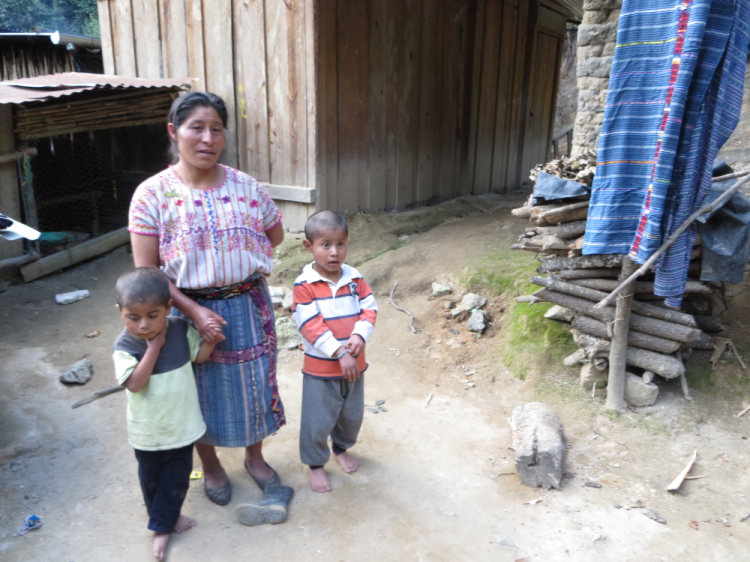 On a recent home visit I trekked with a team through a beautiful valley path in the village of Chicua Primero to a small collection of houses where Tomasa Saquic stood waiting to meet us with two of her four boys. We greeted Tomasa and started talking with her. She told us how she is trying to support her five boys by making handicrafts and washing clothes for a living and how she lost her husband.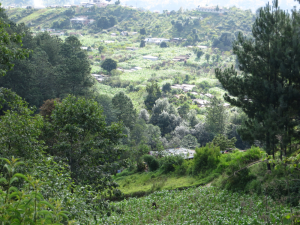 After getting married, she had moved into a house next to her in-laws and was raising her boys there. Her husband worked in the capital city about three hours away so visits were rare and he could only come home about twice a month.
One day in 2008 when her husband visited from his job in the capital, an intense dispute about land broke out between her husband and his father who lived next door. In a rage, Tomasa's father-in-law killed his own son with a machete leaving Tomasa a widow and his four grandsons fatherless.
In a rage, Tomasa's father-in-law killed his own son with a machete leaving Tomasa a widow and his four grandsons fatherless.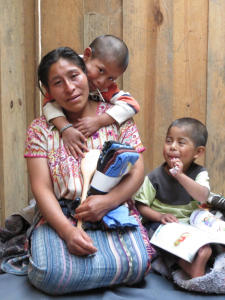 This man, who unimaginably killed his own son, ended up in prison for his crime and begged his daughter-in-law to get him out. In what I can only imagine was an difficult act of forgiveness, Tomasa worked with a judge to get her father-in-law released.
Once he was out of jail and back home in the house next door to Tomasa and her boys, he refused to talk with her. This rejection left Tomasa in the company of a family that won't talk with her and far from her own family who don't visit her.
I've been to a lot of house visits. While each story touches my heart and I look for ways to minister to the families this particular home visit brought me to tears even as I was trying to translate the story for the team standing in front of me.
One of the team members asked if her husband was good man and treated her well. She replied, "Yes, but I didn't know him very well since he was only here a couple times a month since he worked in the capital."
I was amazed to see how this woman who had lived a marriage of solitude and focus on raising her children had such a selfless attitude in her request for prayer for her children and her list of needs: She needed help with the costs of school for her boys and for her…well, it came down to the fact that she was lonely and needed fellowship with a good church. She just wanted someone to come and pray with her. She had approached a local evangelical pastor about visiting her home and praying with her, but he told her she can pray by herself or with her boys.
Again, rejected by those one would think would embrace and encourage her, Tomasa, who is a Christian, has started to receive guests from the Catholic church who do come and pray with her, but her sons don't like going to the Catholic church.
We prayed with Tomasa and encouraged her that she can raise her sons to be a new generation that changes what has been the past for this family. We also worked to connect her with a good church nearby.
We know another evangelical church just on the other side of her valley where they have a good children's program and a pastor who has a heart for reaching out in his community, we have made contact with the pastor there to followup with this family and help her connect with a Bible-believing fellowship where she and her boys can grow in relationship with the God who loves widows and orphans and becomes a Father to the fatherless.
We also are using some funds that were donated for scholarships to help Tomasa's boys stay in school. The boys are Kevin (9), Tomas (8), Emilio (7), Elmer (6) and Maynor (4).
Please pray for Tomasa and her family to connect with Christ through this church and to find the fellowship and encouragement that she desperately needs.
UPDATE:
I spoke with Pastor Carlos who ministers near Tomasa's village. He said that Tomasa is bringing her boys to his church where she is now able to grow in the Word of God and have fellowship with others.
Update 2: I spoke with Tomasa about how she feels at the new church where she attends and she said that she feels like she's getting a good plate of spiritual food. She said her oldest son now reminds her when it is time to go to church and encourages the other boys to get ready to go. Elders from the church are also visiting her home to pray with her.
Update 3: Nov. 2014 We discovered that Tomasa needs water. She's been dipping water out of a dirty stream near her house to use for her family. Not only is this time consuming and costly for the wood to boil this water but it is unsanitary for Tomasa and her boys. We have made the first payment for Tomasa to be able to get a rural water faucet right at her house. We'll be following up to make sure she is able to get a water faucet that will serve her family for years to come.
Update 4: Dec. 2016 We visited Tomasa and her boys and got to see them enjoying their water faucet and utility sink…right in their own yard. Tomasa has continued connecting with others at a local church. Her boys are continuing their studies and Kevin (now about 12) is about to graduate from sixth grade!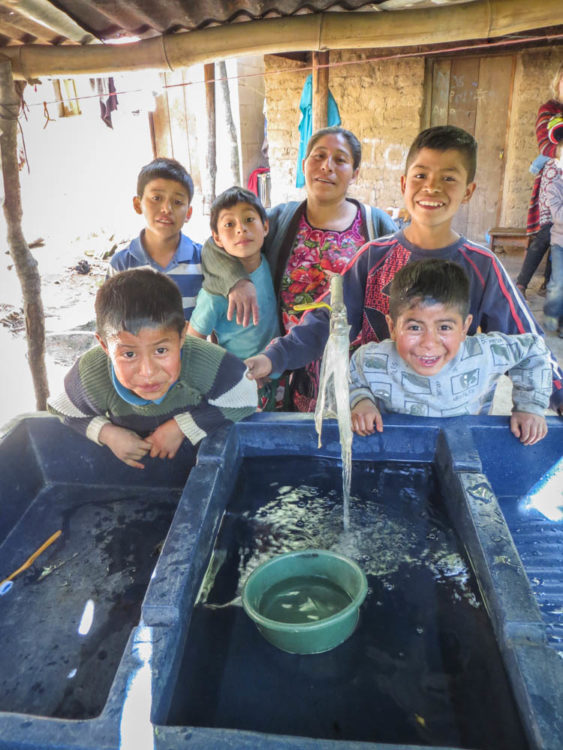 ---
To help us help Tomasa and families like her, consider giving a financial gift or supporting us monthly.
Give Here