Angelica Maria de Leon and her husband didn't have much. Just a small house without electricity, but they had each other and their three children.
Then about 11 years ago, Angelica's husband decided to go illegally to the United States to try and make a better life for his family. Talking about that time is still difficult for Angelica.
"I feel that when I talk about my life then, that it's just too much. "
Her husband mortgaged their little house and land and began his journey to the United States.
"When my husband went to the United States he said he went to help us move forward –my children and me — because where we were before we didn't have electricity. We didn't have anything."
It didn't work out that way.
Time passed and Angelica finally heard from the smuggler her husband had hired to get him to the United States.
"The coyote said my husband was in jail and he should be home by New Year. The new year came, but he didn't come."
She thought he'd be back but four more months passed without word, and Angelica began to look for him.
"I said no, I'm going to look for him. I'm going to find the father of my children. I'm not going to stay like this."
She contacted a government agency for help and began checking even the morgues. But she found nothing.
"I didn't know where he went." She said. "He had disappeared all at once."
Despite her searching, Angelica never found her husband. She doesn't know what happened, only that he disappeared forever.
Angelica and her children kept living in the little house until the new owners came and told her she had to leave.
When that day came, Angelica didn't know what to do.
"I told myself it wasn't worth it." She said, "I lost my husband and my land and now I'm left with nothing. I said, 'Lord, I can't do this.'"
One day, on the street some lady suggested Angelica go ask for help at a ministry called ASELSI.
"Have faith," this stranger told Angelica.
"This word she told me, — 'Have faith.' Has helped me keep going."
She got there and just cried as she poured out her story. ASELSI gave her some help but especially encouragement.
"They prayed for us and I felt the presence of the Lord." Angelica said. "I felt that someone said to me, 'Don't be afraid, I'm going to lift you up in a big way, in great things.'"
Encouraged that God had a plan for her, Angelica went to the people who owned her land and begged that they give her a chance to buy it back. They agreed to a price of nearly US $10,000. With help from others, she was able to borrow and scrape together the money and bought back her land. Then little by little she paid back her debts.
Eventually, she got a job, but that meant leaving her young children at home while she was work. That seemed to be the only option. One day while she was away a young man abused one of her daughters who were at the house alone.
After that, she quit her job and moved her children into town with her parents.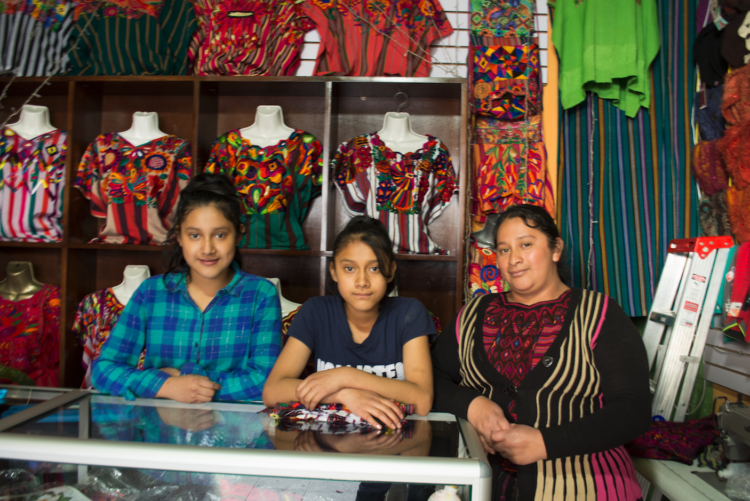 Praying, she again went to ASELSI for advice. There she received some money that she used to buy supplies and make some typical clothing that she could sell.
Little by little her business grew and she has seen God's hand on her life. Now she has a shop where she sells typical clothing and pays for her children's school and family needs.
Eventually, she sold the land she had and bought a piece of property on the side of a hill but closer to town. Still, she had no home to live in and was renting a place for her family.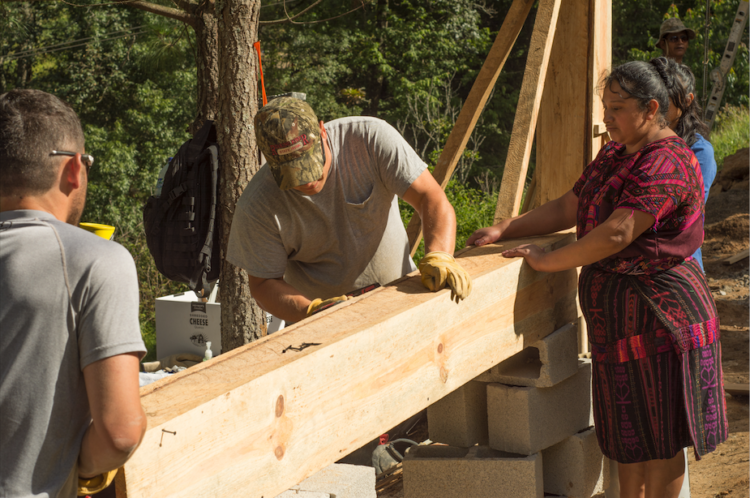 Missionaries Michael & Chrisi Shead heard about Angelica and her situation through ASELSI. So, when a team from Michael's home church in Kansas wanted to come and help build homes for Guatemalans, they brought Angelica and the team together. The team came from a church called…Faith.
In a matter of a few days of the team's arrival, they built a house that provides Angelica with one more proof of God's love and care for her family.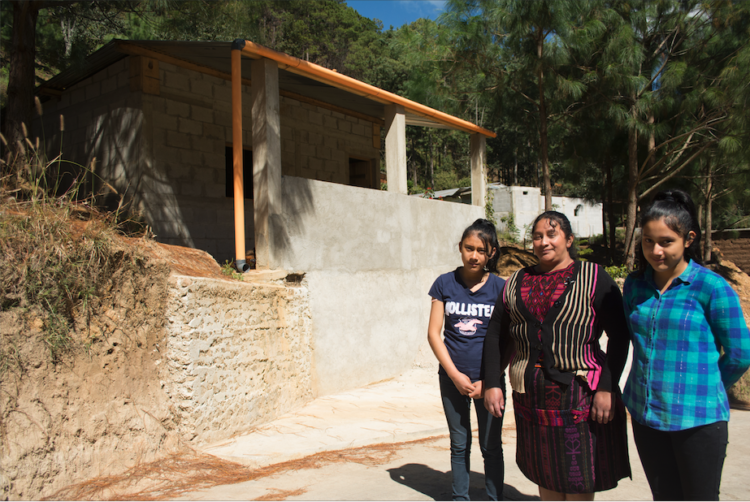 "I know that God has a plan and that there is more purpose in my life," Angelica said.
Now Angelica says she wants to take what she has received and help others who are in need.
"I know God is going to give me more," Angelica said. "I know that I must share with others too. This is my desire. I'm going to do it, because I know there are people who have greater needs than I do."
As missionaries here in Guatemala we are reaching out to the people around us to help them experience God's love. Our goal is that His love, discipleship, and faith will transform them–that, like Angelica, they will share His love and hope with others and God's work will multiply here in Guatemala and beyond.