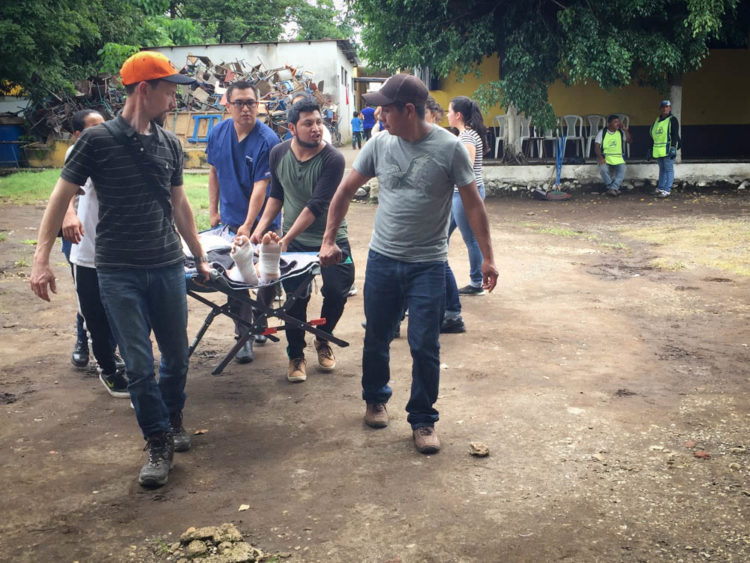 Since the volcanic eruption that killed more than 100 people in Guatemala, people across the nation have been gathering supplies to help those who left everything to escape the deadly lava and ash.
Before dawn on Friday a group of about 20 young people gathered inside a tin storage building in Chichicastenango and organized a pile of supplies. In the early morning rain, they loaded the items on a large truck and then filed into awaiting vans to take these supplies to the victims of the Volcano Fuego that erupted five days earlier.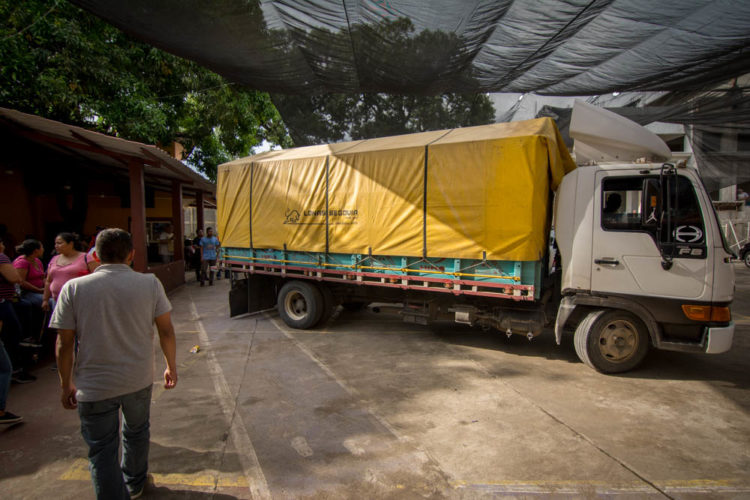 The group call themselves the United Churches Movement of Quiche. With encouragement from organizations like ASELSI (the Guatemalan ministry we partner with) this group of dedicated young people from different churches had collected supplies from churches, schools, and individuals and were on their way to deliver them to the volcano victims.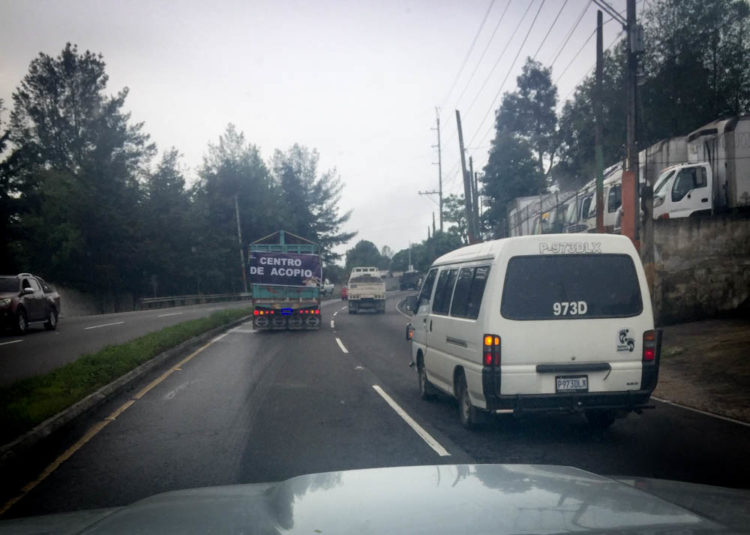 Nearly five hours later they arrived in the town of Escuintla where refugees had found shelter in the homes, churches and government buildings that had been converted to emergency shelters.
The team visited three shelters and met with victims of the eruption. On one of the shelters there were posters showing pictures of missing family members. These were stark reminders that not everyone made it to safety.
The first two shelters were at churches that had opened their doors to families in need. Children were being entertained with crafts and clowns, while parents picked through donated clothes to see what they could use. Volunteers were preparing meals to feed the families.
José Alfredo was one of those who found safety at the shelter. He said he and his family had evacuated from the small town of El Rodeo in cars or pickups filled with families like his who were desperate to escape the ash and lava that was rushing down the volcano. His six kids and his family were safe, but José told of others who were still looking for their children who were missing.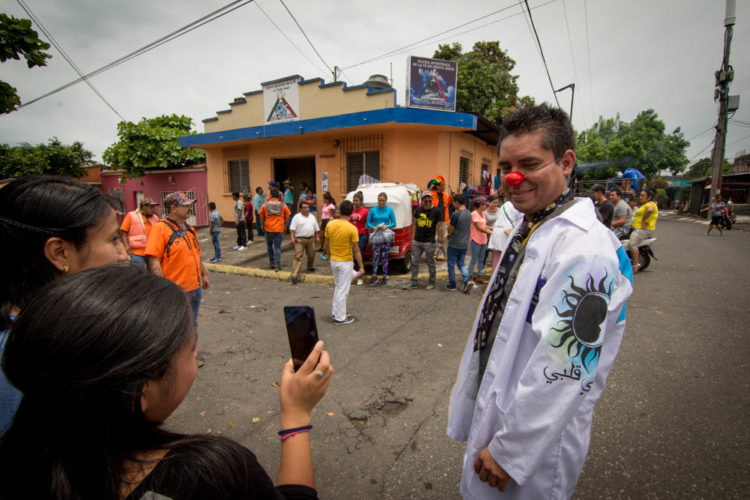 Nearly 200 people are still listed as missing. The National Coordinators to Reduce Disasters (CONRED) published notices that 4,391 people are in shelters, 12,407 have been evacuated and 110 people have died as a result of the volcanic eruption. While recovery searches are continuing there is little hope of finding anyone alive and some are calling the buried villages cemeteries because so many are believed to have been buried in the deep ash and rubble there.
At the Federal School "José Marti" the school grounds had been converted into an emergency shelter where hundreds of evacuees were receiving food, clothes, and medical care.
In front of a classroom-turned-clinic hung a hand-colored sign that quoted Philippians 4:13, "I can do all things through Christ who strengthens me."
Below the sign, two patients were receiving breathing treatments on the front porch. A woman called us over to help transport a patient to the bus so he could be moved to the hospital.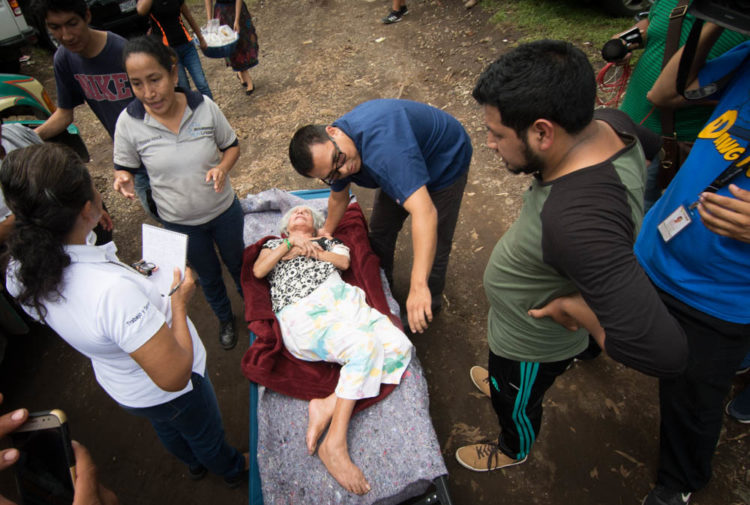 His name was Domingo and his feet were bandaged with gauze to cover the burns he'd received from the hot ash. Six of us grabbed sides of the cot and we carried Domingo carefully through the crowd of people, cars, and trucks to a waiting bus. After he was situated, he told me his story.
Domingo was from the village of San Miguel los Lotes where some 3 meters of hot ash1, rocks and rubble filled the streets and trapped people in their homes. It was in this village where many of those who died had lived quietly before the eruption that buried their world.
"We were trapped in our house. It was hot," Domingo said. "The firemen opened the house to let us out."
He said the firemen opened up the house and put boards on the hot ash to help rescue him, his daughter, and three grandchildren. In the process of his escape, his feet were burned. As he told me all this, his voice cracked with emotion as he said that his thirty years of hard work had disappeared when his home was buried. I tried to encourage him that God had saved him from the volcano and there is hope for his future.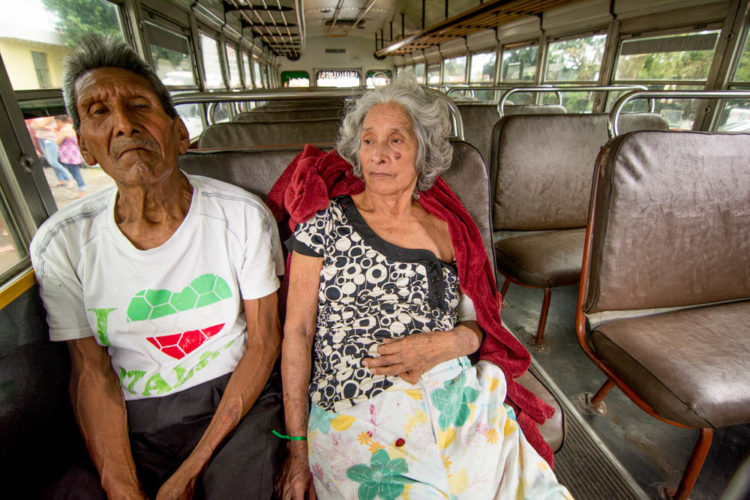 While waiting for other patients who needed to go to hospital Domingo sat on the empty bus doing what many of the victims of the volcano are doing in shelters across the region—waiting. Waiting and wondering what is next for them and their loved ones who survived.
I prayed with him and hope my words and the caring actions of so many people will remind him and other victims that God saved them and will help them now and on their next move and that like the sign on the clinic door stated, they can do "all things through Christ."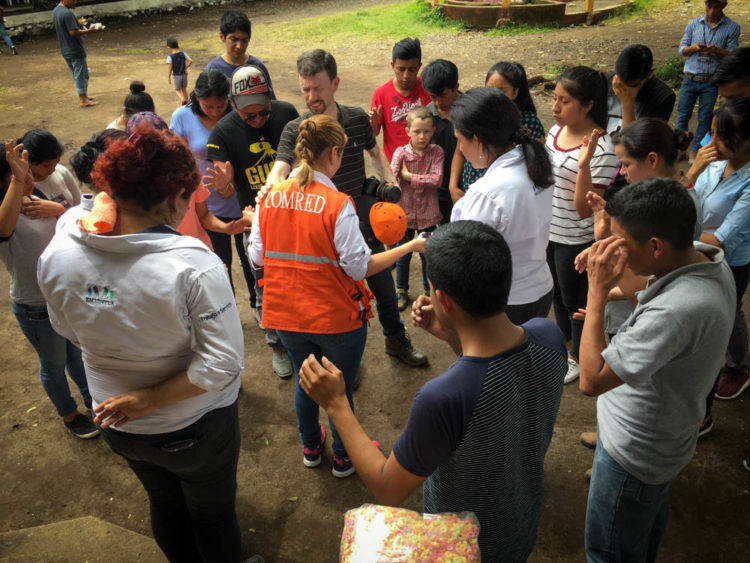 Our visits to the shelters showed us that there are many people who are scared, hurt, sad, and needing hope. As far as physical needs, the overwhelming response of people who want to help has literally clogged the roads with trucks loaded with supplies.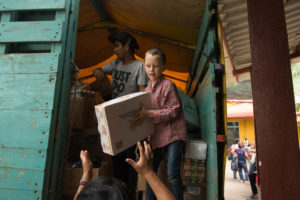 We delivered our supplies to the Christian Community Church where they said the load we brought would help provide about three days' worth of food and medicines for the victims. They told us that since many of the shelters were well supplied with food and emergency supplies, they were expanding to help other affected villages and areas where there was need. The supplies we provided would help with this.
Despite the major eruptions having calmed, there have still been smaller eruptions causing villagers and rescuers to evacuate as dangers from mudslides and some other small eruptions have caused additional danger.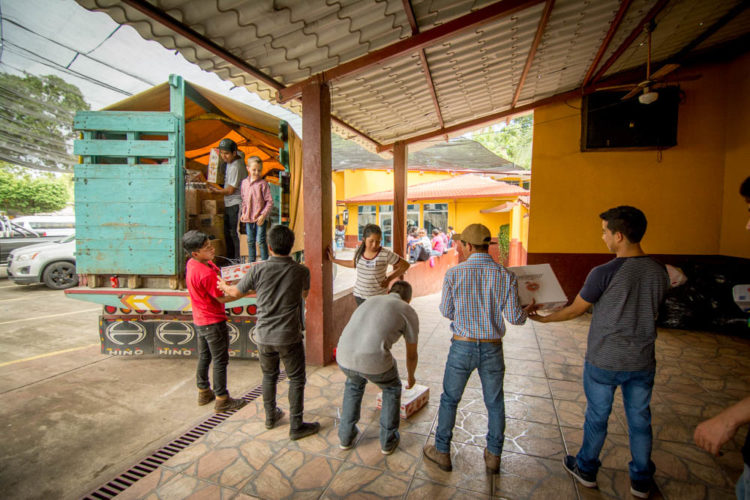 While the urgent needs of medical care for the injured, shelter, clothes, food and water are well taken care of right now, the long-term recovery will be an ongoing process. People like Domingo, the man with the burned feet have lost almost all the physical things they had in this world. Others have reported that they are afraid to leave their villages because of fear that thieves will break in and steal the little they have left. For people like these, the recovery process will be a long one. We plan to help by continuing to support recovery efforts that will help with long-term needs and by being ready to help with other emergencies in the future.
---
If you would like to help us continue reaching out with the hope of Jesus Christ, please pray for us. If you'd like to donate consider a monthly or one-time gift to help us continue caring for and discipling others in Guatemala below.
Give Here
(1) http://www.bbc.com/mundo/noticias-america-latina-44365470