If you live in Santa Cruz del Quiche, Saturday is a good day to tidy up your shoes.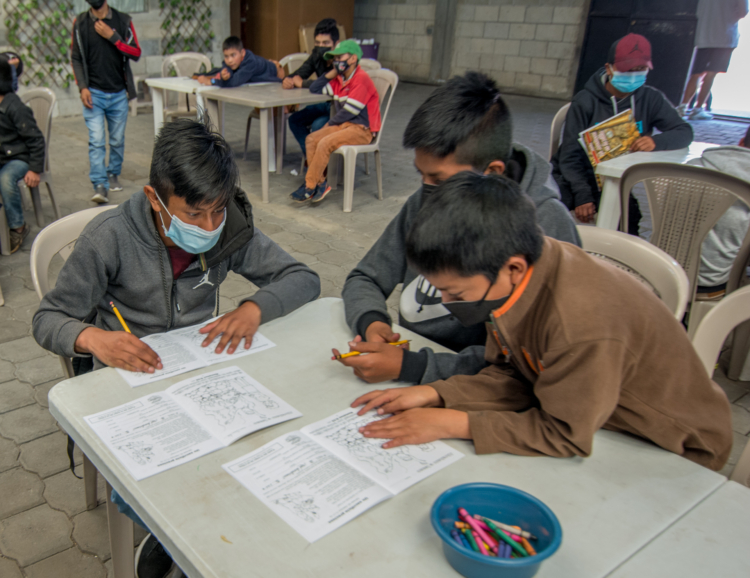 This town is a governmental seat located in the mountains about three and half hours from the Guatemalan capital and many of the population are of Mayan indian heritage. Saturday is one of the days when groups of boys with their shoe shining brushes and brown and black wax come in from the surrounding villages in search of customers with dull and dirty shoes.
These boys, many between the ages of 8 and 14, are trying to earn money to help their families or maybe to pay for their own schooling. These boys wander around the town's central park or venture into the urban neighborhoods where they hope to find customers.
Marisol is a kind, smiling woman with a big heart for these boys. With the help of a group of willing volunteers from a variety of churches in the community Marisol and her team have spent the last five years of Saturday mornings doing something special for these boys.
A little before 8 a.m. on Saturday mornings, a minibus meets the boys at the central park and loads up with the shoeshiners and then bumps it's way down the street until they all unload in front of a local church. The boys wash their hands and then find seats waiting for them at neatly arranged tables. After a brief prayer they eat up a bowl of breakfast before joining in on a pair of creative songs and then listening to a Bible story.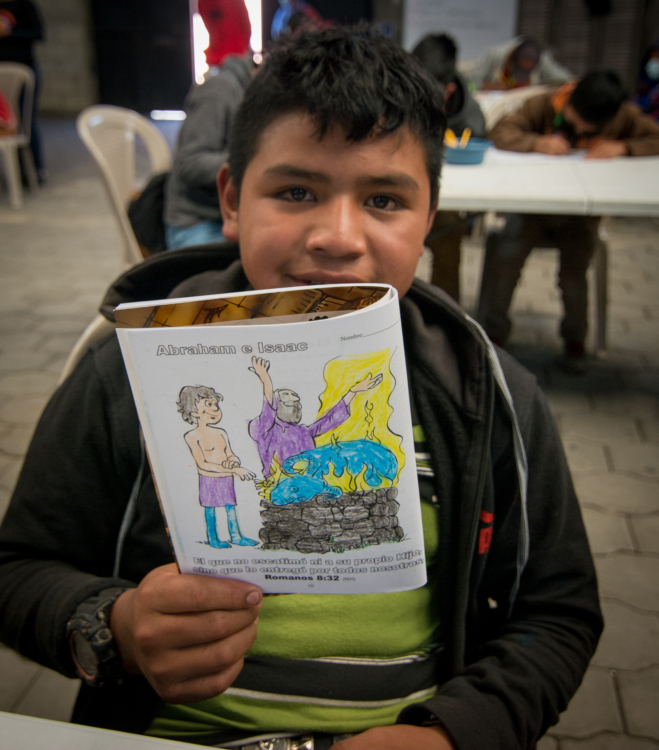 Today, the story was of Abraham and Isaac — the story of Abraham passing God's test of faithfulness when he demonstrated his willingness to sacrifice Isaac in order to obey God's voice.
The boys opened their Adventures in the Bible books and answered questions about the story and colored pictures depicting how God provided an alternative sacrifice instead of Isaac after Abraham showed faith and obeyed God.
This ministry called Ministerios de Niños Odres Nuevos (New Wineskins Children's Ministry) also does outreaches to connect with the boys' families and provides scholarships.
Odres Nuevos is one of many ministries that are using our Adventures in the Bible books that we developed to help disciple and teach children in God's Word. Today, Michael and Hudson visited this ministry to the shoeshine boys, and taught the lesson about Abraham's obedience to God's command.

After the lesson and the shoeshine boys had again loaded into the minibus to head back to central park, Michael shared briefly with the volunteers to encourage them in the ministry they are doing and the long-term results that come from shining the light of Christ into the lives of these boys with these weekly applications of Christ, love, care, Bible truth and breakfast.