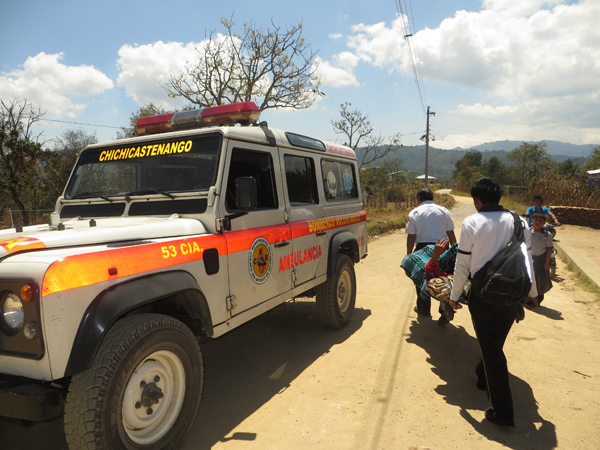 In the Spring of 2013 I was visiting a medical outreach where the doctors and a group of residents and medical students from the USA were busy seeing sick patients at a temporary clinic set up in a church in Xepacol — a village of about 400 familes located about 25 minutes outside of our home base in Chichicastenango.
We saw patients with basic skin rashes, colds and sniffles and then we got an urgent request for a doctor from a neighbor who lived across the dirt road from the church. We walked into a packed dirt courtyard inside the adobe home and found a man lying on a pile of blankets. His name was Diego.
Diego had drunk himself into a stupor and when he wandered home; he fell into a sort of unresponsive coma. His family hadn't been able to wake him and they were worried. They knew full well that, in this culture where addiction to alcohol has cost the lives of many young men, those who binge drink for days and weeks on end like Diego did are never sure of living to see another day.
After a doctor examined him, ASELSI, the minstry I serve with, sent for an ambulance and paid to have him taken to the National Hospital nearly an hour and a half away.
That was the last time I saw Diego…being loaded up in the ambulance and carried to the hospital…until a few weeks ago.
I was back in Xepacol again with a team of short term missionaries from a youth group in Battle Creek, Michigan. We were staying at that same church in the village of Xepacol. The team of 25 people and our Guatemalan leaders slept in storage rooms and Sunday School classrooms and during the day, we went out to build on project sites to help poor families start a sustainable income. We also did evangelism and children's ministry at the church.
On the second night we were there, I was walking around the side of the church building when a man I didn't recognize stopped in front of me and greeted me by name. Being a pale faced "gringo" living among the Mayan villagers, it's not unusual for people to recognize me in a crowd. So I greeted him back and we stood to chat. He said his name was Diego.
He told me he wanted to say thank you for ASELSI's help when he was lying unconscious in his courtyard. That's when I realized who he was.
We sat down and chatted for a while and I presented the Gospel to him. He liked that idea but said that his ongoing problem with alcohol probably would keep him out of God's kingdom. So, I explained how Christ came to set  him free from alcohol and from sin.
We talked for quite a while. Eventually, the local pastor, Sebastian, and an intern that I've been training came by and joined in the conversation. Together we explained to Diego how God had turned around the lives of others from similar situations and how Christ came to set him free.
As dusk fell and the shadows of the church building enveloped us in darkness, a new light lit in Diego's heart as he accepted Christ's forgiveness and love right there.
I'm still praying for Diego. Just the other day I asked Pastor Sebastian about him. I found out that Diego hasn't started attending church, perhaps because he's ashamed of his past and doesn't feel comfortable there yet. We pray for him to overcome the temptations that he's sure to face, and continue in the freedom and love that Christ bought for him on the Cross.

——————-
By supporting financially, you help us do more ministry like this in Guatemala and beyond.
Give Here