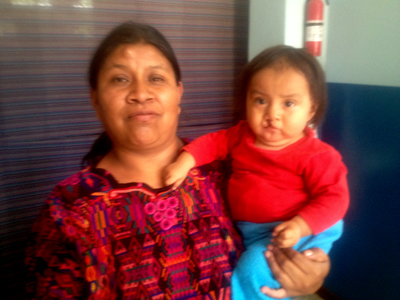 Jorge is the 11th of 11 children born to his mother, Lucia. She is around 38 years old and had almost given up hope for her little boy.
Jorge entered the ASELSI Milk Program when he was 1 year and 3 months old. He only weighed 8 pounds 7 ounces – that's what a one month old baby should weigh.  Read more on how Jorge has survived here.
Now he is 2 years old and weighs 17 pounds 4 ounces. While he looks like a chunky little baby, Jorge is still very malnourished for his age and not even touching the growth chart.
He has been steadily gaining and we are hoping to see him up to the required weight soon so that we can send him to get cleft palate surgery that will help make feeding easier and help him grow.
We praise the Lord for this little survivor who has overcome the statistics that say that in this region of Guatemala 6% of babies die before reaching the age of 5. Thanks to God's hand on this little boy's life and the help of the ASELSI Milk Program where I help teach mothers how to care for their babies every week, Jorge  is alive today.
~ Chrisi
——————-
By supporting financially, you help us do more ministry like this in Guatemala and beyond.
Give Here