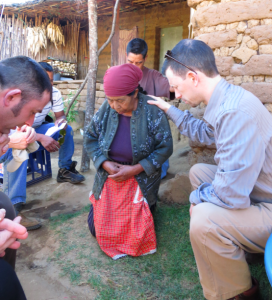 Petronila is about 76. Four of her five children have abandoned her in a leaky house with adobe walls that are starting to crack. She is a Mayan and still believes in the Mayan gods.
When we visited her, we took a basket of food and household items for which she was very grateful. One of her sons still lives with her but he isn't able to help her very much and most of her time she spends trying to stay comfortable from her physical pains that keep her from working any more.
While we visited Petronila we prayed with her and a team member from Missouri shared about how God has helped him walk through the tough times in his life.
Petronila showed us the blankets that ASELSI gave her to help keep her warm this winter and expressed how grateful she was for the gifts and food. She said that through the example that she has seen through ASELSI and this team she knows that God does care about her.
A local pastor who was with us and she asked him about when his small groups in the community. It's very exciting to see how God is working on the hearts of people in the communities here and drawing them to Himself.
After the home visit, some of the team members expressed interest in helping get a new roof for Petronila's house.